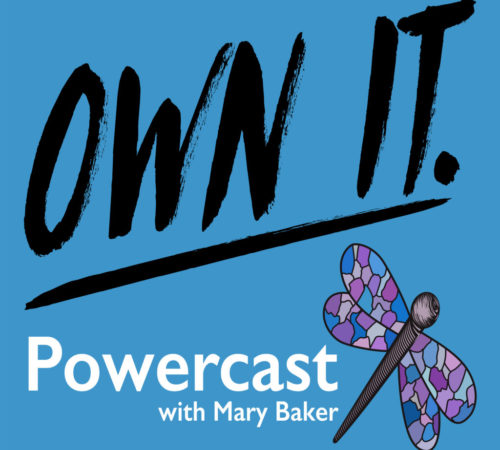 OWNIT001
Welcome to the Debut of the OwnIt Powercast!  What does it mean to be empowered?
Ever wonder how true self-confidence is really created? Why are you really struggling your relationships? Tired of all the drama and the feelings of frustration and defeat? Well tune in to this debut episode of the Own It Powercast, where life coach and counselor Mary Baker  begins the conversation about the journey to true empowerment. She shares how empowerment…self-esteem and self-confidence are SO misunderstood in our culture, and therefore the solutions to healing are not always so obvious. That's why she's doing this podcast…after being prodded for years to do so. If you're serious about making big changes in the relationship you have with others and most importantly yourself, then you don't want to miss this foundational episode. Don't forget to subscribe and download the Bonus material so you can take the work even deeper.
Key ingredients
• Learn what true empowerment is…and what it isn't
• Learn about the key components necessary for true confidence
• Defining what it means to disown the self,
• See where you fall on the Confidence Continuum
Bonus Downloads
Get your free downloads here to keep the work going!
Thank you for tuning in to this podcast. Please remember to leave a positive review on your podcast platform, and let us know how this episode has been helpful. Also don't forget to subscribe to this podcast on your favorite platform so you don't miss a thing!